In vitro Fertilization
In vitro fertilization is the most commonly used technique in order to recover a mouse line from frozen sperm.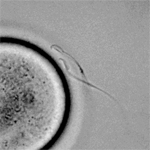 It can also be performed with fresh sperm in order to generate a high number of 2-cell embryos which can be either cryo-preserved or transferred to a recipient mother. It can help to speed up the re-derivation process of a mouse line or to quickly expand a mouse colony, generating a big number of pups born at the same time. In these cases, frozen sperm can be used, but also a sample of fresh sperm can be taken from the male keeping him alive.
You would provide us with a male that has been previously proved to be fertile. By default, we would fertilize C57Bl/6N oocytes, but other genetic backgrounds can be considered upon request.
If you would like to request this service, please fill out and send us the requisition form.
Please do not hesitate to contact us if you have any questions regarding this technique or the form.