ES Cell Derivation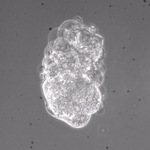 We establish in culture new embryonic stem cell lines with high efficiency using 2i+LIF conditions. Other culture conditions can be considered upon request.
If you are interested in obtaining ES cell lines from your mutant or wild type mice, you would provide us with fertile males and/or females. We obtain embryos and culture them until ES cell lines are successfully established for at least (4) 6 passages.
If you would like to request this service, please fill out and send us the requisition form.
Please do not hesitate to contact us if you have any questions regarding this technique or the form.