ES Cell Aggregation
As an alternative to injection, we also introduce modified embryonic stem cells into mouse embryos by aggregation to morulae.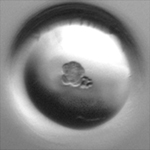 You can provide us with the mutated ES cell line or we can generate it by electroporation of your targeting vector (see ES cell electroporation). We also aggregate iPS cell lines or other cell types, and perform morula-to-morula aggregation, if you work with those other in vitro models.
We will culture the cells for at least one passage prior to injecting them. In one session of aggregation, we aggregate a minimum of 50 morulae, and transfer them to pseudopregnant recipient females. The chimeric pups generated are handed over to the user after weaning for crossing and germ line transmission analysis.
If you would like to request this service, please fill out and send us the requisition form.
As this technique comprises the generation of a new genetically modified mouse line, the form includes information we need to gather in order to ask the Danish Authorities for the permission to generate this new line. Please note that you should ask for permission to maintain the line under your own license.
Please do not hesitate to contact us if you have any questions regarding this technique or the form.